Chorley Panthers RLFC

News Report
Time To Dust Off Your Dancing Shoes ...
26/04/18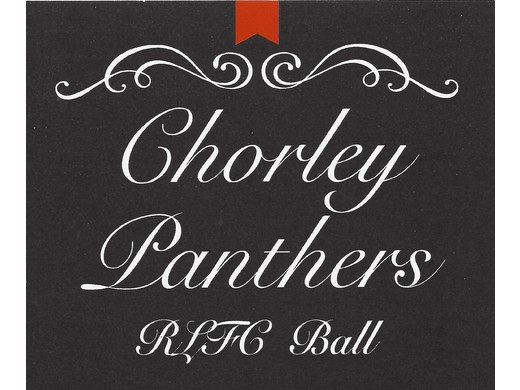 Due to the success of previous years balls, we once again plan to add a little glitz and glamour to the world of Rugby League by holding our 6th "Panthers Ball". The event takes place on Friday October 12th @ Park Hall Hotel, Charnock Richard. The format for the evening will be drinks reception 6.45pm, 3 course Dinner 8pm, live music from the fabulous band "The dBs" and disco until 1am, carriages 1.30am.
It has been decided that this years ball will be a celebration of Panthers, a time for parents, family and friends to get together, let their hair down and have fun, therefore there are no plans for an auction on the night.
Tickets cost £45 per head, £5 discount if paid in full before June 10th.
Spread the cost via standing order, £5 deposit now and 4 monthly instalments of £10 per month (to take advantage of this offer all standing orders must have commenced by June 30th). All tickets (unless paying by standing order) need to be paid for in full by July 14th
Reserve your place today just £5 per person deposit secures your ticket! Tickets can be reserved via your place with your Team Manager, Alan Bowers, Angela Turner or by emailing treasurer.chorleypanthers@gmail.com .

Follow the site to get the latest news and results straight to your email
Calendar
Mon
Tue
Wed
Thu
Fri
Sat
Sun

1

2

3

4

5

Apr 5 Chorley Panthers U9s - 2020 v Woolston Rovers Greens U9s - 2020

Chorley Panthers RLFC

Apr 5 Chorley Panthers U11s - 2020 v Clock Face Miners U11s - 2020

Chorley Panthers RLFC

Apr 5 Chorley Panthers U10s - 2020 v Woolston Rovers Golds U10s - 2020

Chorley Panthers RLFC

Apr 5 Chorley Panthers U7s - 2020 v Heysham Atoms U7s - 2020

Chorley Panthers RLFC

Apr 5 Chorley Panthers U12s - 2020 v Chester Gladiators U12s - 2020

Chorley Panthers RLFC

Apr 5 Chorley Panthers U8s - 2020 v Leigh East Tigers U8s - 2020

Chorley Panthers RLFC

Apr 5 Westhoughton Lions U18s - 2020 v Chorley Panthers U18s - 2020

Westhoughton Lions

Apr 5 Belle Vue Bees U16s - 2020 v Chorley Panthers U16s - 2020

Belle Vue Bees

6

7

8

9

10

11

12

13

14

15

16

17

18

19

Apr 19 Chorley Panthers U13s - 2020 v Newton Storm U13s - 2020

Chorley Panthers RLFC

Apr 19 Folly Lane U9's - 2020 v Chorley Panthers U9s - 2020

Folly Lane ARLFC

Apr 19 Pilkington Recs U11s - 2020 v Chorley Panthers U11s - 2020

Pilkington Recs

Apr 19 Limehurst Lions U15s - 2020 v Chorley Panthers U15s - 2020

Limehurst Lions

Apr 19 Wigan Bulldogs U7's - 2020 v Chorley Panthers U7s - 2020

Wigan Bulldogs

Apr 19 Chorley Panthers U10s - 2020 v Burtonwood Bulldogs U10s - 2020

Chorley Panthers RLFC

Apr 19 Wigan St Patricks U14s - 2020 v Chorley Panthers U14s - 2020

Wigan St Patricks

Apr 19 Chorley Panthers U8s - 2020 v West Bank Bears U8s - 2020

Chorley Panthers RLFC

Apr 19 Chorley Panthers U18s - 2020 v Burtonwood Bulldogs U18s - 2020

Chorley Panthers RLFC

20

21

22

23

24

25

26

Apr 26 Cadishead Rhinos U8s - 2020 v Chorley Panthers U8s - 2020

Cadishead Rhinos

Apr 26 Langworthy Reds U14s - 2020 v Chorley Panthers U14s - 2020

Langworthy Reds

Apr 26 Shevington Sharks U10s - 2020 v Chorley Panthers U10s - 2020

Shevington Sharks

Apr 26 Chorley Panthers U7s - 2020 v Accrington Wildcats U7s - 2020

Chorley Panthers RLFC

Apr 26 Chorley Panthers U11s - 2020 v Golborne Parkside U11s - 2020

Chorley Panthers RLFC

Apr 26 Limehurst Lions U13s - 2020 v Chorley Panthers U13s - 2020

Limehurst Lions

Apr 26 Chorley Panthers U9s - 2020 v Rochdale Mayfield U9s - 2020

Chorley Panthers RLFC

Apr 26 Chorley Panthers U16s - 2020 v Leyland Warriors U16s - 2020

Chorley Panthers RLFC

Apr 26 Chorley Panthers U15s - 2020 v Hindpool Tigers U15's - 2020

Chorley Panthers RLFC

27

28

29

30
Next Matches
Upcoming Match Details
05/04/20 10:30

Chorley Panthers U7s - 2020
Heysham Atoms U7s - 2020
Upcoming Match Details
05/04/20 10:30
Chorley Panthers U8s - 2020
Leigh East Tigers U8s - 2020
Upcoming Match Details
05/04/20 10:30

Chorley Panthers U9s - 2020
Woolston Rovers Greens U9s - 2020
Upcoming Match Details
05/04/20 10:30

Chorley Panthers U10s - 2020
Woolston Rovers Golds U10s - 2020
Upcoming Match Details
05/04/20 10:30
Chorley Panthers U11s - 2020
Clock Face Miners U11s - 2020
Weather
4 MPH SW
79% humidity
Fri

10°C
3°C
Sat

12°C
4°C
Sun

16°C
5°C
Mon

12°C
6°C
Contact List

Angela Turner
07815067668